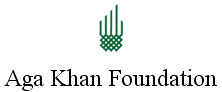 Position Title: Communications and Research Officer
Agency: Aga Khan Foundation
Sector: Social Development
About the Agency
The Aga Khan Foundation (AKF) is part of the Aga Khan Development Network (AKDN), a group of private, international, non-denominational agencies founded by His Highness the Aga Khan. The Network's organisations have individual mandates that range from the fields of health and education to culture, rural development and the promotion of private-sector enterprise. AKDN is dedicated to improving living conditions and opportunities for the poor, without regard to faith, origin or gender. More information....
The position
The Aga Khan Foundation (UK) is currently looking to appoint a Communications & Research Officer.
This role will develop the communications tools to help the CEO and Partnerships Team secure breakthrough investments from European donors to contribute to positive and lasting change in the developing world. Working with the UK team and the Aga Khan Development Network's (AKDN) 11 wide-ranging agencies and institutions, the role will compile evidence, data and visual content (including info-graphics, maps, video and photography) to powerfully convey the relevance and validity of AKDN's results, impact, and approaches.
The successful candidate will have experience working in the development sector with proven research, analytical, writing and synthesis skills. Strong creative, visual, and digital skills (including Adobe Creative Suite and PowerPoint) and experience working with social media platforms for business use are a must.
Required skills and experience
Experience working in the development sector

Proven research, analytical, writing and synthesis skills

Strong creative, visual, and digital skills (including Adobe Creative Suite and PowerPoint)

Experience working with social media platforms for business use

Masters degree, preferably in Development or Communications
Required Business Competencies
Proactive self-starter

A clear communicator

Insights oriented

Understanding of how to communicate effectively to a variety of target audiences

A keen eye for detail

Multi-tasking master, comfortable with ambiguity and a rapidly shifting landscape

Strong emotional intelligence

A commitment to improving lives in the developing world
Salary and package to attract the best candidate
Apply by: 26-Oct-2015