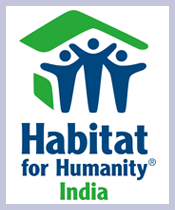 Habitat
for Humanity India built its first house in the Asia Pacific region in Khammam in Andhra Pradesh. Since then Habitat for Humanity India, has built or repaired homes with 40,000 families in need. This includes serving around 14,000 families through a post – tsunami reconstruction program covering the states of Andhra Pradesh, Kerala and Tamil Nadu. Over the years, Habitat has worked in 16 states across India, through local affiliates and through Habit Resources Centres located at Mumbai, Delhi, Bangalore and Chennai. Habitat provides its core expertise in housing so its partners can offer a more holistic approach to helping communities escape poverty. Habitat's work in India is supported by donations from individuals, business corporations; foundations and trust, for more information please visit www.habitatindia.in

DUTIES/AREAS OF RESPONSIBILITY:

• Lead and manage the Programs design and implementation
• Create and implement annual development plan and strategy for the programs of Program Implementation office Bangalore to achieve HFH mission
• Facilitate the development of annual budgets, monitor the expenditure and ensure modifications as required
• To ensure that the program goals HFH India are achieved in coordination with colleagues, communities, families, donors and partner organizations
• Identify potential NGO partners, nurture current partnerships and community relations to ensure maximum impact of HFH programs.
• Prepare high quality concept notes that attract potential donors including government participation
• Directly supervises employees in the Program Implementation office in accordance with the organization's policies and applicable laws. Responsibilities include recommending hiring/release; appraising performance; rewarding and disciplining employees; addressing complaints and resolving problems.
• Monitor Project implementation and ensure course correction or corrective actions. Undertake
• periodic field reviews to engage with team and Partners to ensure quality preparation and timely submission of monthly/quarterly/annual program reports
• Coordinate with Partner teams for timely submission of accurate fund requests and timely transmittal of the funds from the National Office
• Undertake research and data analysis with Partners to improve program quality and support in promoting institutional learning
• Coordinate and participate in program studies, reviews and evaluations and follow-up on the findings
• Coordinate and facilitate donor visits to Project Areas
• Support the Mid Term and Final Evaluation of the Grant in coordination with the Monitoring and Evaluation team
• Facilitate official records and documents, and ensure compliance with local regulations.
• Maintain a working knowledge of significant developments and trends in the field
• Provide Project Management expertise in planning/implementing projects in cost effective housing
• Identify areas where partner staff or program require capacity building and coordinate with National Office to provide the same
• Support Resources Development and Volunteer Programs as required
• Any other duties assigned from time to time

Skills and Experience Required

• Proven management and leadership capabilities

• 7-10 years Experience working with Mid Level executives in a corporate/social sector environment

• High energy, positive, "can-do" attitude, flexibility, teamwork, and attention to detail; high degree of initiative. Excellent interpersonal and intercultural communication skills

• Strong verbal communications skills and demonstrated ability to write clearly and persuasively

• Demonstrated ability to think strategically and thorough understanding of strategic development

• Demonstrated ability to prospect, cultivates, and manages a team

• Strong partnership-building and program planning skills

• Thorough understanding of all components of an NGO

• Good computer skills and knowledge of data base and spread sheet programs

• Ability to develop and manage budgets and understand financial reports

• Should be able to perform with minimal supervision and resolve problems independently. Should have a thorough understanding of policies and procedures in the performance of duties

Education Required - MSW/ MA Sociology /

Please apply in confidence by email latest by 17 April 2014, attaching a cover letter and your CV as a single file with a filename containing your full name, in Microsoft Word, Adobe PDF or plain text format. The covering letter should describe your motivation for applying for this position, salary expectation, current salary, current location and contact details.
Please mention the Position name in the Subject field of your email, and send your applications to: anilt@hfhindia.org

only shortlisted candidates will be invited for an interview and those who applied once need not apply again.